My summary of the module 2 of the course "Principles of Project Management".
The Project Manager Role
PMs are NOT the project owner that is the person or organisation paying for the project. Carrying out the day-to-day management of the project is what the PM is responsible for.
3 essential characteristics of a Project Manager:
knowledge
performance
personal traits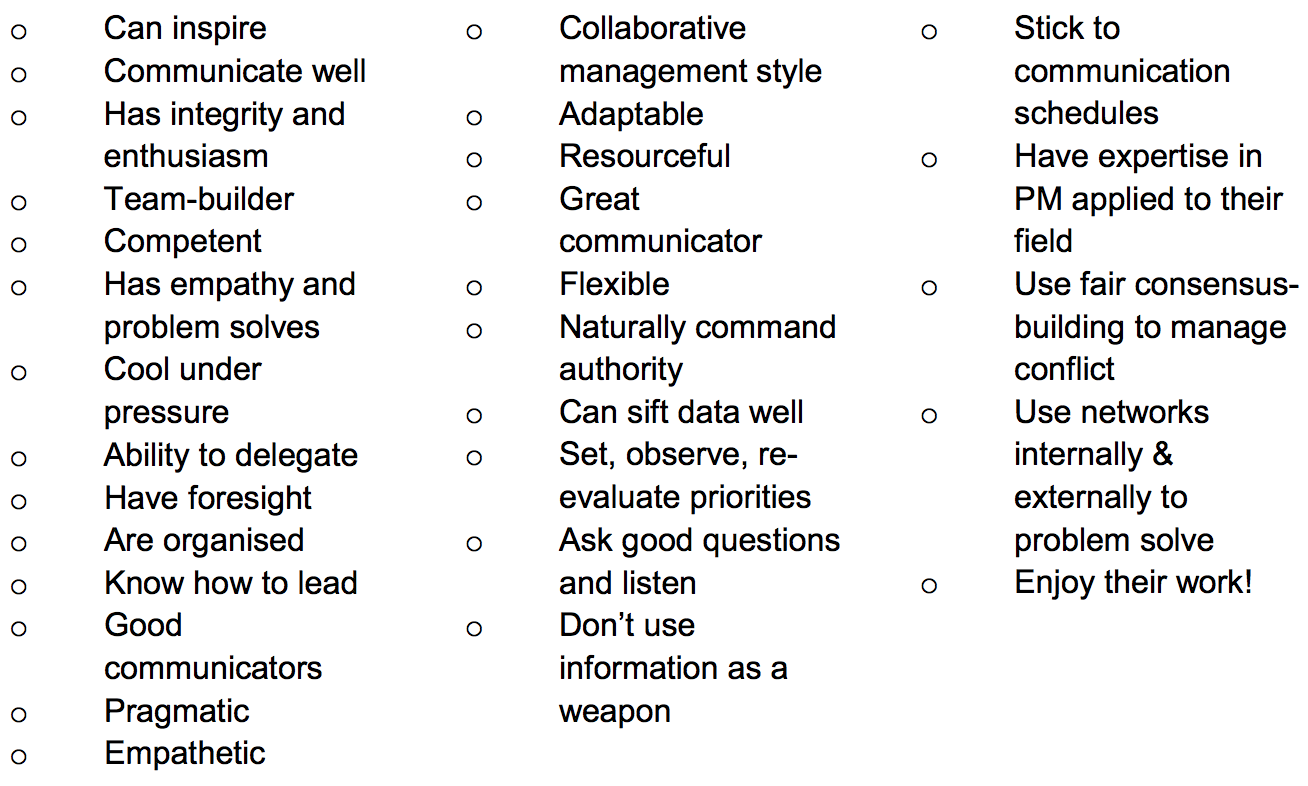 Project Stakeholders
PMBoK defines as "persons or organisations (e.g. customers, sponsors, performing organisation, the public) who are actively involved in the project or whose interests may be positively or negatively affected by the performance or completion of the project." PMBOK ,Ed 4.(2008)
Work out - as early as possible - who your stakeholders are and assess exactly what their stake in the project is.
Make sure the right people have input to the planning
Identify project champions who will help you to promote and implement the project
Be aware of stakeholders that may cause problems
Project Concept life-cycle phase
Identification of the goal
Evaluation of the goal

SMART analysis, or
Analysing the SoW, or
Writing a Business Case

Investigate the project's feasability
Consider the suitability of the project for the organization
Prepare formal doc to authorize the project's start: Project Charter

Integration knowledge area

Identification of stakeholders

Communication knowledge area

Move to development phase
Setting your goal(s) and justifying them
Perform SMART analysis
Build a Business Case

background & objective
need/problem to be solved
cost benefit analysis
preliminary requirements & estimates
analyze options, make recommendations
If necessary, investigate project goal feasibility via Feasibility Study and Report. The Study traditionally assesses:
Technological feasibility
Operational feasibility
Legal feasibility
Schedule feasibility
Financial feasibility aka Cost Benefit Analysis
Market potential
Writing the Project Charter
Inputs: Statement of work, business case, any contracts / tenders used and should also consider enterprise environmental factors and any organisational process assets (information the organisation holds from the past).
Tool and techniques: "expert judgement".
Output: Project charter, which may consist of:
project title
description of project purpose (from business case)
high-level project/product description
summary schedule (start/end/milestone dates)
summary project budget
measurable objectives related to success criteria
summary of the planned approach, i.e. high-level requirements
roles and responsibilities including who authorises the Charter and who signs off on the project deliverables
assigned project manager w/ contact details
Purposes of writing the charter include:
Getting buy-in and authorization
Defines project and goal posts for planning
Helps ensure project has been properly assessed
Establishes line of authority
Delegates responsibility for planning to PM
Promotes good PM practices from start
Primary verification tool to assist eventual handover
Great initial communication tool for all
Identifying success criteria & measurable outcomes
The success criteria identify (in high-level) at the project start-up how the project will be measured to be successful at the project finish.
To measure success criteria, you need to have measurable project objectives (assessed with SMART)
Time, budget, scope, and quality - along with their estimates - are common success criteria
Success criteria may include project criteria as well as product criteria
Ask client/sponsor to understand the criteria better:

how will you know the project complete?
how will you identify success?
how will measure it?

2 ways to measure the criteria:

Discrete success criteria: deliverable 'x' is supplied on 'date'
Continuous success criteria: achieve a 25% rise in customer satisfaction ratings
Project assumptions, constraints and risks, plus roles & responsibilities
To identify high-level assumptions, list anything that can be considered reasonable for the planning purposes, but that if they don't come true will have a major impact on the project.
Assumption examples:
There is an assumption that PMO - which is being considered for closure - will provide support throughout the project.
If there is something related to legal consequences, an assumption may be that we'll have an access to legal advice to be provided on sensitive issues.
Constraints (or limitations). Besides already mentioned scope, costs, time, quality, risks, and resources, there might be own unique constraints. E.g. limited access to remote project's client.
Risks are directly linked to assumptions and constraints. If you assume a particular resource will be available for project purposes, you're also identifying a potential risk that has an impact on the timeline and scope.
In Roles and Responsibilities, provide a table/matrix with people who will have authority over the project running. Contact details to be recorded, too.
Identifying stakeholders
This is a second initialization process and a part of Communication management area.
Inputs:
The Project Charter
Procurement documents such as contracts, suppliers
Enterprise environmental factors such as Government regulations, standards, company culture and structure
Organizational process assets such as stakeholder register templates or stakeholder information from previous projects.
Tools and Techniques:
Expert judgement
Stakeholder analysis:

identify all potential stakeholders and info about them
classify their influence and interest - low to how
consider how to influence them to either build their support or reduce their negativity.
Outputs:
Stakeholder register
Stakeholder management strategy
Appoint the team and kick off the project
Project kick-off should help you:
Introduce the Project Manager (and possibly sponsor) to the team
Get the team to start building a team ethos
Make sure everyone understands what the project is about
Discuss the key points for the project's success identified from the business case, SOW, Project Charter including thinking about assumptions, constraints and risks to the project
Outline how the team will communicate and
Establish primary roles and responsibilities from the start.
Another meeting can be held to kick-off execution phase and explain the assembled team where to access the Project Plan, its key elements, and overview of the project.
Key point: as a PM, don't plan without having a team to help you with technical consultation and guidance.