When you manage several projects simultaneously, you have to switch context quite a lot. It's important to have a tool that helps update awareness of the current situation on a particular project. You need a dashboard.
Information dashboard, when well designed, is a good means to update situational awareness at a glance. It is able to quickly point out that something deserves attention.
In his book "Information Dashboard Design, Stephen Few claims that the effective dashboard must be designed to support the performance monitoring process, which involves 4 stages:
Update high-level situation awareness.
Identify and focus on particular items that need attention: a) Update the awareness of this item in greater detail; b) Determine whether an action is required.
If the action is required, access additional information that's needed to determine a response.
Respond.
With that in mind, I built up a dashboard for myself to effectively monitor & control my projects within Smartsheet.
Here's a screenshot of the resulting dashboard (all data is made up):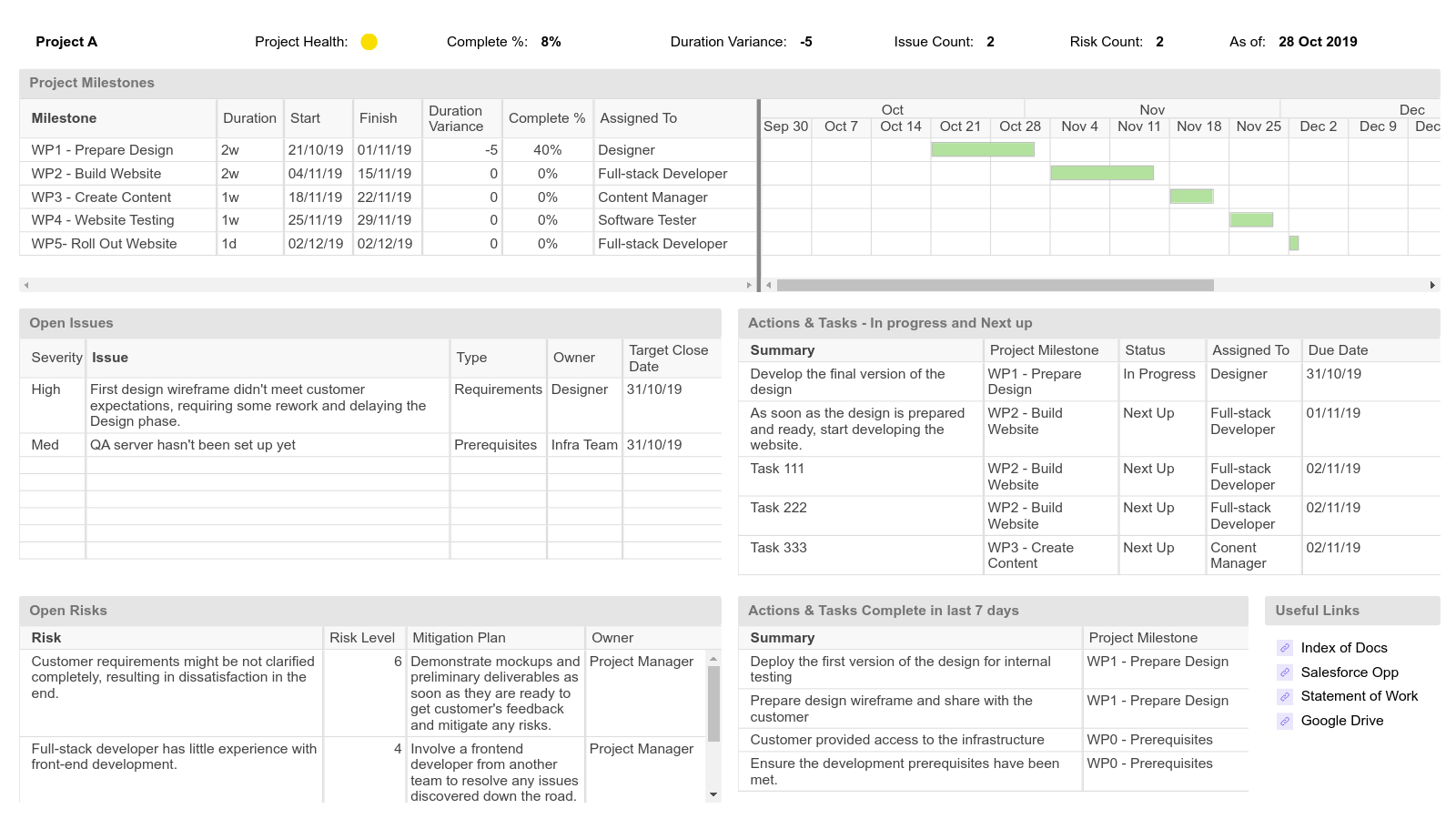 (The image is clickable)
It includes the following important areas for rapid monitoring:
Milestone status: % complete and target end date
Critical issues
Actions overdue or due soon
High-impact risks requiring my attention
Useful links if I need to get more information
Each widget on the dashboard is linked to the underlying sheet. For instance, if I click on the milestone table, it leads me to the project plan. In that way, I am able to quickly navigate and update the data that appears up on the dashboard.
Now, whenever I go into meetings with a customer and with internal teams, I open this dashboard and quickly get myself up to speed with recent changes. It's easy to understand what requires attention and what the next steps are. And it's never a problem to provide a report on short notice.